COVID-19 Policies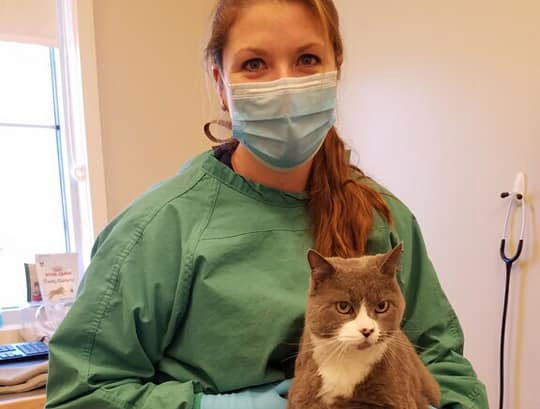 March 25, 2020
During COVID-19, Veterinary clinics are considered essential during the lock down and therefore we are open and here to care for your pets as always.
Clinic Hours:
Monday: 8:00 am - 6:00 pm
Tuesday: 8:00 am - 7:00 pm
Wednesday: 8:00 am - 6:00 pm
Thursday: 8:00 am - 7:00 pm
Friday: 8:00 am - 6:00 pm
Saturday: 8:00 am - 4:00pm
Sunday: Closed
Curbside Service
We have a COVID-19 protocol in place in order to minimize risk of exposure for all of us as a community. We are bringing just your pets (no people) into the building for care and we will communicate with you via phone while you wait in your car.
Call us when you get here and a team member will assist you over the phone. Bring your cat in a sturdy carrier and park near our front door. One of our nurses will direct you to place your cat carrier inside our secure kennel.
Bring your dog on a leash. Park behind our building, in the designated parking spots near the white fence of our dog yard. One of our nurses will direct you to bring your dog into the dog yard and attach your dog's leash to our leash hook.
Our nurses will then bring your pet into the clinic. Our nurses and doctors wear gloves and gowns when holding your pet. We'll be in contact with you during your pet's appointment. Just as you would during a traditional visit, you can speak with a doctor or technician to ask questions and voice your concerns. We'll perform any necessary treatments and prepare your invoice and all take home medications for your pet.
We'll return your pet and complete the payment process. After your pet's appointment is finished, the doctor will call you and go over all exam findings and discuss a plan going forward. We will transfer you to the receptionist to take a debit or credit card payment over the phone.
If you're feeling under the weather, please reschedule your appointment. Keeping everyone safe is our top priority. We will do our best to schedule your pet when you are feeling better.
If you have any questions at all, don't hesitate to call us at (508) 563-7147.